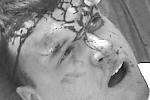 Real Name: Kyle No Good
Height: 6'0"
Weight: 170 lbs
Hometown: San Bernardino, California (the Grumpy District)
Entrance theme: The Misfits: "Attitude"
Slogan: "I'm unshakable, untakeable, and unbreakble."
Finisher: The Troublemaker
Record: 7-12 (3-0 in Grudgement Day)
The Grumpy Skull has been diagnosed with obssesive compulsive disorder, ADD, and just being plain mean. The Grumpy Skull withstands ridiculous amounts of violence only to come back for more. This man will stop at nothing to ensure all his opponents end up like him: with no future. With such an awnry disposition and absolutey no common sense, Kyle No Good, along with his unhealthy affinity for lightbulbs, is a bloodbath waiting to happen. Oh yeah, he also hates cute baby puppies.

Real Name: Kris Littleton
Height: 5'6"
Weight: 130 lbs
Hometown: Little Rock, Arkansas
Entrance Theme: Rancid: "Indestructible"
Slogan: "I'm too little to quit!"
Finisher: The Hellbow
Record: 7-8 (1-1 in Grudgement Day)
Not the biggest dog in the yard but sure as hell one of the meanest, The Little Guy dishes out big amounts of violence. Too little and too white to have a future in the NBA, The Little Guy is currently serving up an all you can eat violence buffet in the NFW. Low in muscle but high in unneccasary violence, The Little Guy won't be satisfied until he's finally not asked for ID when entering a strip club.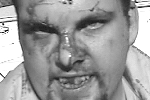 Real Name: Scott ???
Height: 6'4''
Weight: 280
Hometown: Monster Island, Tijuana, Mexico
Entrance Theme: Rob Zombie: "Scum Of The Earth"
Slogan: "Rrrrooaaarrr! Monster style!"
Finisher: Monster Under The Bed
Record: 6-5 (1-0 in Grudgement Day)
After drunkenly finding his way across the US/Mexico border, El Monstro landed on the No Future Wrestling doorstop. A poster child for violence and devastating power moves, El Monstro terrorizes the NFW world circuit in hopes of obtaining his green card (he doesn't seem to realize that he's already an American citizen). Big, mean, and real fucking big, El Monstro is here to tear shit up, build it back up, then tear it up again.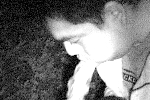 Real Name: Robert "Bobby" Suave
Height: 5'7''
Weight: 160 lbs
Hometown: God's Kingdom
Entrance theme: John Williams With The London Symphony Orchestra: "Duel Of The Fates"
Slogan: "Keep doing what you're doing! Do the damn thing!"
Finisher: Watchtower Of Power, Door To Door Slam
Record: 7-5 (1-3 in Grudgement Day)
Sick of being ignored when going door-to-door to spread the gospel, the Jehovah Supernova Bobby Suave made his way to NFW in order to make an example of the No Future Soldiers. This spiritually fueled powerhouse will show no pain, no mercy, and no respect until the true glory of God's kingdom is realized. The Jehovah Supernova will show everyone exactly what Jehovah would do (WWJD?)....he'd kick some ass!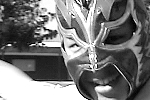 Real name: Chester Copperpot III
Height: 6'1''
Weight: 165 lbs
Hometown: Bangor, Maine
Entrance theme: Cyndi Lauper: "Goonies 'R' Good Enough"
Slogan: "Goonies never say die!"
Finisher: Pinchers Of Power
Record: 1-5
The Goonie exists as one of the more puzzling No Future Soldiers (even more puzzling than former NFW star The Puzzler). Wearing a mask to wrestle, he conceals his identity as he proclaims his cause: to not rest until the world sings as loudly as he does, the praises of Corey Feldman. Obssessed with the best actor named Corey, The Goonie entered NFW in order to obtain a level of success not matched since Corey Feldman starred in Lost Boys. Devoted to his cause, The Goonie stands tall, knowing that his success will bring him Corey's friendship and grant Corey Feldman that long over due Oscar nomination.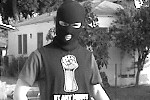 Real Name: Tim Frederiksen
Height: 5'5"
Weight: 133 lbs
Hometown: Parts Unknown (where else would he be from?)
Entrance Theme: The Unseen: "ADD"
Slogan: ???
Finisher: Tombstone Of The Unknown Soldier
Record: 0-4
This wrestler's name says it all. Not much, if completely nothing, is known about this wrestler, concealed in a ski-mask and promoting militaristic violence. The Unknown Soldier exists in a sea of rumors, some say he escaped from a militant miltia, others say he is a hero from a revolution torn South American village, or that he is a she, or that The Unknown Soldier is a dishonored volunteer who had worked on the Ralph Nader campaign. Those rumors aside, The Unknown Soldier is in NFW, ready to unleash a blitzkreig of brutality on the free world. Big brother may be watching, pennies are used to steal our DNA, and those black helicopters are tracking you down, but rest assured, The Unknown Soldier denies any and all involvment and can safely say he was at home playing Skate Or Die on his Nintendo when anything happened.

Real Name: Matt Mayhem
Height: 6'0"
Weight: 325 lbs
Hometown: Patton State Mental Hospital, Highland, California
Entrance Theme: Mindless Self Indulgence: "Futures"
Slogan: "Because I'm mad, I'm Matt, and I'm about to cause some mayhem!"
Finisher: The Seratonin Slam
Record: 1-0

Members: El Monstro and The Jehovah Supernova
Weight: 440 lbs
Slogan: ...
Finisher: I'm not sure, but I bet it really hurts.
Record: 2-0

Members: Matt Defiance and The Grumpy Skull
Weight: 320 lbs
Slogan: ...
Finisher: ...
Record: 0-1
Fallen Soldiers

Real Name: Rodney Detweiler
Height: ???
Weight: ???
Hometown: Venice Beach, California
Whose the man keeping you on the edge of your seat with the sarcasm,witty repartee and double entendres? Whose the man so close to the no future action that he can, and does, film it? It's Rodney Detweiler, the man who turned down film projects with Devil Motion Picture Company, Full Moon, Dreamworks, Lion's Gate, and Wicked Pictures to capture his artistic vision through NFW. The Career Counselor of No Future Wrestling has only one goal (besides remembering the names of the two strippers he wakes up with every Sunday morning) and that's to bring the international phenomenon known as No Future Wrestling to new entertainment heights not seen since GLOW! That's right motherfucker, Rodney Detweiler, remember that name, it'll be the one your mother is screaming out!

Real name: Richard Cortez
Height: 5'10
Weight: 140 lbs
Hometown: A properly zoned district of Highland, California
Entrance theme: Never had one
Slogan: Ditto
Finisher: Your guess is as good as mine
Record: Never had a match
The Bureaucrat lives for one thing and one thing only: the brutal enforcment of codes, zoning laws and regulations. With a go-nowhere job and endless red tape, The Bureaucrat truly has no future. He's zoned, toned, and has filled out all the appropriate paperwork to kick some heavily regulated ass. The Bureaucrat aims to bring the only kind of justice he respects to NFW: City Hall justice!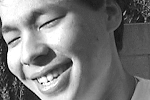 Real Name: Todd Tamagotchi
Height: 5'8"
Weight: 128 lbs
Hometown: Chinese Underworld
Entrance theme: Skankin' Pickle: "Turning Japanese"
Slogan: "Ain't no party like a Far East party, 'cuz a Far East party got rice."
Finisher: Sake Bomb, Combo #4
Record: 3-4 (0-1 in Grudgement Day)
Deported from his homeland for bootlegging Pokemon movies and Bone Thugs n Harmony CD's, Todd Tamagotchi fell into the No Future Wrestling world. With a high flying, daredevil style, The Beast From The Far East can hurt you in more ways then a Viet Cong internment camp. The Beast now wrestles with no future in the pursuit of a faster computer and unreleased Eminem MP3's.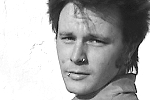 Real Name: Matt Defiance
Height: 5'6''
Weight: 150 lbs
Hometown: San Bernardino, California (the Meth Lab District)
Entrance theme: Anti-Nowhere League: "Animal"
Slogan: "The three D's of Defiance: Deadly, defiant, and destructive!"
Finisher: The Defier
Record: 4-6 (0-2 in Grudgement Day)
Hailing from San Bernardino with a wrestling style that can only be described as pure madness, Matt Defiance is in NFW for the reason so many other criminals/competitors/alcoholics/sadists are: he has no future! Carrying his trademark graffiti covered stop sign to the No Future battle field, Matt Defiance is looking to crack skulls harder then a riot cop. Sick of go-nowhere jobs to pay for enough gel to stick up his hair-do's, Defiance is looking to make your suffering legendary.